Why Choose Hydroblasting for Surface Prep
There are many aspects of hydroblasting that make it the ideal surface prep method. Below, we will outline what makes it so great and why you should choose hydroblasting for your surface prep needs.
Important Hydroblasting Components
First, the process begins with a high-pressure water pump that generates a powerful jet of water. This is not like your neighbor's pressure washer. Instead, the pump required for hydroblasting generates thousands of pounds of pressure per square inch. A skilled technician can manipulate this pressure to ensure only the coating or build-up is removed.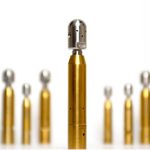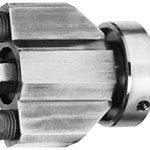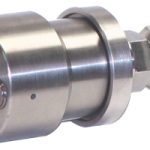 Secondly, the pump delivers the water to a specialized nozzle or lance. The nozzle focuses the high-pressure water onto the surface that needs to be cleaned. Different nozzles establish different water flow patterns, based on what the task requires. (Two nozzles shown above represent two rotating models.)
How It Works
When the high-pressure water strikes the surface, it creates an impact that removes the coating or build-up. For some coatings, this impact creates an opening and the remainder of the water actually removes the coating by forcing itself between the layers. For mineral build-up, the pressure here simply forces it off of the surface. Hydroblasting effectively removes paint, rust, scale, grime, and coatings (even polyurea!).
Making Adjustments
The adjustability of hydroblasting is a key factor in its efficacy. Concrete, metals, and wood all require a different amount of pressure to successfully keep the surfaces in good condition while simultaneously removing the unwanted coating.
Eco Friendly
Perhaps one of the key reasons why you should choose hydroblasting for surface prep is its lack of environmental impact. Hydroblasting uses no chemicals, meaning no pollutants end up in our water sources. Secondly, water blasting creates no dust or air pollutants. Not only does that mean a healthier environment, but increased safety for the individuals working on the project.
We Know Our Stuff
To work with a team that only uses the industry's best practices and top safety methods, call Clean Sweep Hydroblasting. We've been in the industry since it's inception! Over 30 years of experience is here to provide you with the best results and the best service.
For more information on Clean Sweep Hydroblasting and the services we offer, check out our services page.
For information on the who makes up our Florida hydroblasting business, check out our other introductions!
If you believe your business could benefit from our services, do not hesitate to contact us. We'd love to hear from you!
Follow us on LinkedIn, Facebook, and Instagram for regular project updates.